Products Tags
CONTACT US
FMUSER INTERNATIONAL GROUP INC
Address: Room305, HuiLanGe, No.273 HuangPu Road West, TianHe District., GuangZhou, China, 510620
Address in Chinese: 广州市天河区黄埔大道西273号惠兰阁305
---------------------------------------------
Phone/Whatsapp/Wechat: +86 15800205544
Skype: Erin-huang2
Email: [email protected]
TV-50W 50watts VHF UHF wireless analog TV transmitter TV Station Broadcasting Equipment transmitter
R: V20190810-06-28
Data sheet
User Manual
| | | | | | |
| --- | --- | --- | --- | --- | --- |
| Price(USD) | Qty(PCS) | Shipping(USD) | Total(USD) | Shipping Method | Payment |
| 2465 | 1 | 0 | 2465 | DHL,EMS,FEDEX IE | |
| 2300 | 2 | 0 | 4600 | DHL,EMS,FEDEX IE | |
Description:
—————————————————————–
>Power: 50W/100W/300W in a 60cm height 19′ rack
>Professinal designed for TV stations
>Big LCD displays all parameters
>Switched power supply
>High reliability and Low price
Feature:
—————————————————————–
The whole machine is single-channel, image with audio together.
The management and monitoring are intelligent and on network, it has the external PC interface.
It has the technical data detection, monitoring systems and full-featured computer control software with auto-diagnostic function. All technical parameters can be read through the LCD display panel.
Comprehensive protection measures can reduce the damage of equipments. This machine has protection about no video; VSWR is too large, overheating, over-stimulus, missing phase protection and lightning protection. The switch has protection about overvoltage, over current, under voltage, over temperature, short circuit and lightning protection.
All power supplies are switching power supplies; high efficiency, excellent regulator range, strong adaptable from the change of the external voltage.
It adopts modular design concept.
Hot-pluggable design: power amplifier and switching power are supporting the Hot-plug, it's easy to debug and maintenance; improve the reliability.
The fan is built-in the chassis, the transmitter has a compact structure and a beautiful shape.
Specification:
—————————————————————–
Working frequency:UHF 13~48 Channel arbitrary choice
Output power:50W
Output impedance:50Ω
Inter-modulation distortion: ≤-50dB
Useless transmission:In adjacent channel ≤-40dB
Out adjacent channel ≤-60dB
RF output interface:L27
Power supply:Single-phase 220V
Shape size:540mm*670mm*260mm
Weight:45KG
Image performance:
Video frequency input level:1VP-P positive polarity
Video frequency input impedance:75Ω
DG:±8%
DP:±7°
Luminance nonlinear:≤12%
Sound performance:
Audio input level:0dBm±6dB
Audio input impedance:10KΩ (imbalance)
Maximum frequency deviation:±50KHz
Harmonic distortion:≤1%
It will use with this antenna: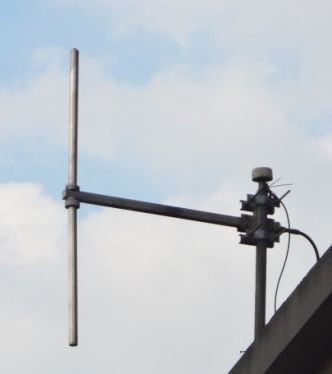 How far(long) the transmitter cover?
The transmission range depends on many factors. The true distance is based on the antenna installing height , antenna gain, using environment like building and other obstructions , sensitivity of the receiver, antenna of the receiver . Installing antenna more high and using in the countryside , the distance will much more far.
EXAMPLE 5W FM Transmitter use in the city and hometown:
I have a USA customer use 5W fm transmitter with GP antenna in his hometown ,and he test it with a car, it cover 10km(6.21mile).
I test the 5W fm transmitter with GP antenna in my hometown ,it cover about 2km(1.24mile).
I test the 5W fm transmitter with GP antenna in Guangzhou city ,it cover about only 300meter(984ft).
Below are the approximate range of different power FM Transmitters. ( The range is diameter )
0.1W ~ 5W FM Transmitter :100M ~1KM
5W ~15W FM Ttransmitter : 1KM ~ 3KM
15W ~ 80W FM Transmitter : 3KM ~15KM
80W ~500W FM Transmitter : 10KM ~30KM
500W ~1000W FM Transmitter : 30KM ~ 50KM
1KW ~ 2KW FM Transmitter : 50KM ~100KM
2KW ~5KW FM Transmitter : 100KM ~150KM
5KW ~10KW FM Transmitter : 150KM ~200KM
| | | | | | |
| --- | --- | --- | --- | --- | --- |
| Price(USD) | Qty(PCS) | Shipping(USD) | Total(USD) | Shipping Method | Payment |
| 2465 | 1 | 0 | 2465 | DHL,EMS,FEDEX IE | |
| 2300 | 2 | 0 | 4600 | DHL,EMS,FEDEX IE | |