Products Tags
CONTACT US
FMUSER INTERNATIONAL GROUP INC
Address: Room305, HuiLanGe, No.273 HuangPu Road West, TianHe District., GuangZhou, China, 510620
Address in Chinese: 广州市天河区黄埔大道西273号惠兰阁305
---------------------------------------------
Phone/Whatsapp/Wechat: +86 15800205544
Skype: Erin-huang2
Email: hch@cantonmade.com
Home > Products > FM Transmitter > 0W-30W
CZH-25A 25Watts 25W FM Transmitter Radio Broadcat +DP100 dipole Antenna KIT for FM Station:

http://tvfmuser.com/content/?497.html
CZH-25A 25Watts 25W FM Transmitter Radio Broadcat +DP100 dipole Antenna KIT for FM Station
R: V20191009-17-43
Data sheet
User Manual
| | | | | | |
| --- | --- | --- | --- | --- | --- |
| Price(USD) | Qty(PCS) | Shipping(USD) | Total(USD) | Shipping Method | Payment |
| 355 | 1 | 0 | 355 | EMS/DHL/FEDEX/TNT | |
| 320 | 2 | 0 | 640 | EMS/DHL/FEDEX/TNT | |
Low power transmitter
Input: Output: Inner Function: Power:
Features:
>This is the 25W transmitter covering range about 5-8KM outside in the open area.It set for the people who want to build a little fm station,a home station.
>It is widely used on the meeting ,car driving broadcasting,village broadcasting,Speech ,concert and Tourist guiding.And also schools,supermarkets, factories, railway stations, conferences.
>It can easy broadcast anywhere you want, home , apartment ,church ,school , club, camping , backyard , resident village.
>This product is made by FMUSER.It is good quality and it has 1 year warranty period.This transmitter will come with English manual to tell you how to operate it .We also have the engineer to help you with all the problem online.
>The transmitter is easy to control and portable to carry,the size is only :215 x165x54mm.
Specification:
RF part:
Operating frequency: 87.5 ~ 108MHz
Output power: 0-25Watt (continuously adjustable)
Output Impedance: 50 ohm
Spurious and harmonic radiation:-60db
Audio part:
Frequency response: 50 ~ 15KHz (3db)
Distortion: 0.2%
Left and right channel separation: 45db
LINE IN connector: RCA two-channel Cinch (stereo)
The microphone interface: 6.5mm
Microphone Type: Dynamic microphone (electret microphone is not applicable)
Power supply part:
Rated working voltage: DC 12~13.8V 5A/6A
Maximum power consumption: 60W
Antenna:
Description:
1.A dipole antenna is a radio antenna that can be made of aluminum, copper, and bronze tube with a center-fed driven element. It consists of two metal conductors of rod, oriented parallel and collinear with each other (in line with each other), with a small space between them.
2. The dipole antenna is a particularly important form of RF antenna which is very widely used for radio transmitting and receiving applications. The dipole is often used on its own as an RF antenna, but it also forms the essential element in many other types of RF antenna. As such it is the possibly the most important form of RF antenna.
3. A half-wave dipole antenna means the length of this dipole antenna is equal to a half-wavelength at the frequency of operation.
Specifications: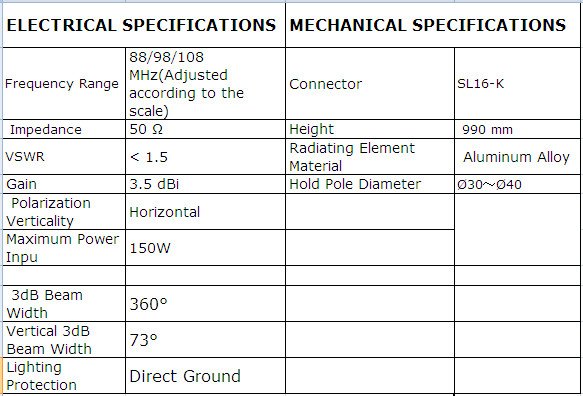 Package include:
1* CZH-T251 FM Transmitter
1*DP100 dipole antenna
1* RF cable
1* Power supply adapter
1* rca audio cable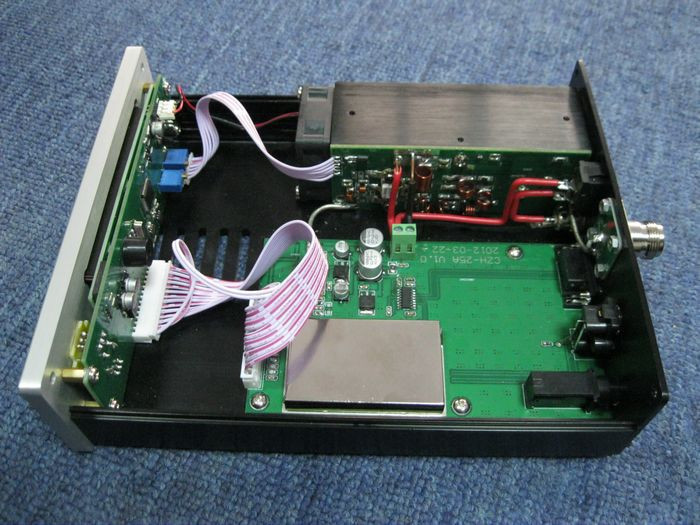 | | | | | | |
| --- | --- | --- | --- | --- | --- |
| Price(USD) | Qty(PCS) | Shipping(USD) | Total(USD) | Shipping Method | Payment |
| 355 | 1 | 0 | 355 | EMS/DHL/FEDEX/TNT | |
| 320 | 2 | 0 | 640 | EMS/DHL/FEDEX/TNT | |